[wow]
Ɓαѕıcѕ
[/wow]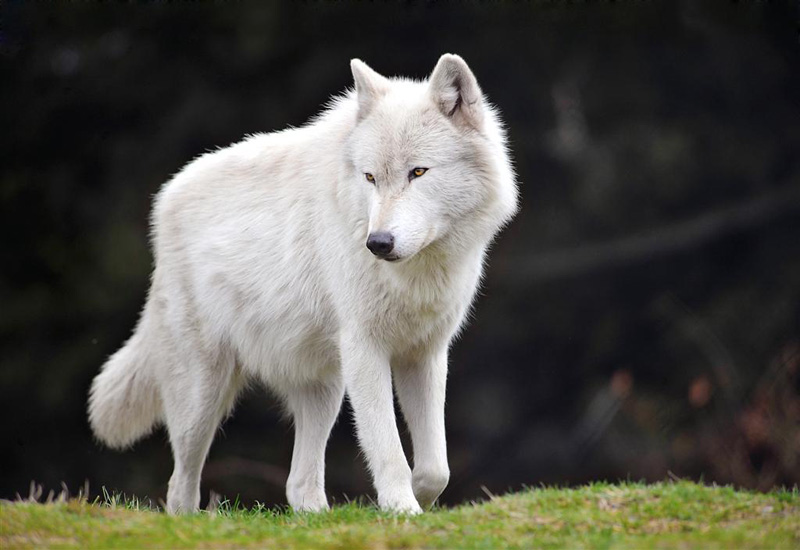 ₪ Ʌγℓα ₪
Ɓαѕıcѕ
Name Meaning:
'Moonlight'
Gender:
Female
Nickname(s):
Ay [open to suggestions]
Rank:
Cora
Element
Fire - due to her fiery personality and general hot-headed fierceness.
Age:
She has lived a total of eight years, though she looks to be little more than three.
Ƥɦყรɪcმl
Build:
Ayla is taller than the average female of her age with a lithe build made up of lean but powerful muscle. She is build for running, being an excellent sprinter with a surprising stamina. Strength isn't her best quality by far, but through her wit and agility she can sometimes overcome this.
Coat:(Length)
Ayla's coat is longer than the average wolf's, though not by an incredible amount. It is also rather silky, and despite it's sleek appearance, it is actually rather dense and thick, perfect for snowy conditions.
Fur Color:
Ayla's base coat is a pure, snow-white that flows uninterrupted across her whole body. Across the tips of her top coat across her neck, shoulders, back and rump is a silvery star-dust colour that is most visible in the moonlight and almost impossible to see in broad daylight. This gives her excellent snow cover.
Eye Color:
Ayla has fire-like orbs that are a raw mixture of a molten gold, burnished amber and an almost reddish ochre that swirl together in such a pattern that one is almost convinced that they are balls of fire.
Markings:
The only colour [aside from her 'stardust' covering] that interrupts the white of Ayla's pelt is a grey on her ears - it looks as though the tips have been dipped in ash, the darker colour then fading into the white.
Scars:
Multiple scars blemish her otherwise smooth skin, though they are thoughroughly covered by fur.
Socιαℓ
Mate:
She had one, obviously, but she left him.
Family:
:: Mother ::
Unknown.
Died shortly after Ayla's birth in battle.
:: Father ::
Unknown.
Died shortly after Ayla's birth in battle.
:: Brother ::
--
Logan
--
A wolf with a coat a glorious mixture of a dark, ashen grey and a depthless black and eyes equally as firey as Ayla's.
Ayla and her brother were very close, the reason for his disappearance is unknown to others and no one is sure if he still lives or not.
:: Pups ::--
Theron
--
A mischeivous, adventurous, fun-loving and head-strong pup who loves to ruch into things and meet new wolves. An immortal pup who loves to stir trouble.
--
Anella
--
A pup almost the duplicate of herself with a proud nature. She likes to think of herself as royalty and often causes Ayla to laugh, though she is not an immortal..
Friends:
Anyone she deems trustworthy or who can make her genuinely laugh.
Enemies:
Just about anyone who comes within an inch of her bad side, and that's not hard to do at times as she's not used to the company of others.
Crushes (or mate):
None.
Ɗєρէɦ
Personality:
Upon first meeting her, one word most wolves come up with for Ayla is proud. She has a fiery heart and sometimes fierce demeanour that many wolves sometimes mistake for arrogance. She can be competitive at times and though she is capable of lying as swiftly and surely as if she were saying the sun will rise tomorrow, she is not afraid to tell the truth and when you ask her a question she is willing to answer, be sure you really do want the truth because she will often tell it in all its severity and bluntness.
Many do not see past this fiery, proud and potentially stubborn appearance, but once you get to know Ayla you find out how friendly and laid back she is. She is rather outgoing and rarely embarrassed with a killer sense of humour that most wolves enjoy, even when it includes sarcasm. She does her best to brighten the mood and even though she is intelligent, she doesn't always think things through when it comes to her friends and people she cares about because she is very protective of them.
Living on the edge comes naturally to her and she will often thoughtlessly come close to loosing her life just for something fun to do, though she would never risk another's life. She would risk her own life for anyone she cared about, but she would almost kill any wolf who tried to do the same for her because she tries to convince herself that she doesn't need protecting - that's her job. In this way she is also usually a 'rock' for others to use, something that'll always be there for them and that they can lean on and talk to.
However, almost no one ever actually knows what she's feeling or what she's thinking for she will rarely let anyone know what's truly on her mind. In fact, when others think about it, they know very little about her or her past and when questioned she often changes the subject without them noticing or just walks away.
In short, Ayla is a fiery, proud, laid-back, friendly, trust-worthy, thrill-seeking wolf who truly is a mystery.
History:
For Ayla, her history is quite a touchy subject and thus, few ever find out. All that most ever know is that it is shadowed and blood-stained, not a cheery topic, and that aspects of it have driven her to become fierce and warrior like, also feeling as though she has to prove herself. Only the basics of her very early life and some points of her more recent experiences are partially well known to others:
Ayla was born in a litter of six pups far in the north, though unfortunately their birth was premature and the winter had clung on into early spring, and so the pups were born when there was still abundant thick snow. All five other non-immortal pups died before they could even be named - killed by the cold. Ayla, however, clutched at life and made it through the harsh first days of hardships. Barely a week after she had opened her ears and eyes, still confined to the den, fighting could be heard outside of her warm little hole and she was forced to listen as her family was killed by a rival pack. Logan, her older brother and fierce fighter, had managed to escape serious injury and did all he could to defend Ayla, able to keep them at bay long enough to whisk her away.
Being only a yearling himself, Logan struggled to care for her, but by some stroke of luck and the extra strength that came with immortality, the two managed to survive. Being so young, Ayla quickly forgot the face of her mother, thinking of Logan as her only real family, though she never forgot the sounds of her family's slaughtering outside and she begged Logan to teach her how to fight. As the loyal brother he was, he did, and Ayla picked it up quickly and by the time she was a yearling she was a skilled wolf in combat.
What happened between that time in her first year of life and the age she is now is very shady, the only thing certain thing being that she had to use the skills she gained in combat on multiple occasion.
She is so far unaware of her immortality, only knowing that she is much stronger, faster and healthier than most wolves of her age. She is, however, aware that there is something awry, now convinced that perhaps her fit physique isn't just to do with her general strong being and searches for answers to her questions.
Ƨłმłร მη∂ Єxłгმร
Strengths:
Her speed
--
with such a lean build, Ayla is an excellent runner and can outrun almost any wolf through a mix of agility, speed and general swiftness.
Her humor
--
not always a strength as it can get her in trouble when used at the wrong time, but this gives her the ability to make most wolves laugh and brighten up her day, making her happy herself.
Her detatchment from emotions
--
some wouldn't consider this a strength but it is in her eyes for it means she can leave everything behind in the blink of an eye and not get too caught up in the deaths of others. She also thinks it means that she'll never get her feelings hurt as she won't let herself get too close to someone, but whether or not she is successful in this is another thing entirely.
Her ability to take care of herself
--
Ayla has no need to depend on anybody [as far as she's concerned] which means that she is fully capable of getting most jobs done herself which leads to her asking very little of others and almost no complaining.
Weaknesses:
Lack of care for her own life
--
though Ayla doesn't necessarily go out of her way to put herself in danger, she isn't always careful with her own life and sometimes [whether it is to benefit/save others or entertain herself] she can come close to loosing her life.
Her pride
--
many mistake it for arrogance and decide they dislike her before they get to know her. This also leads to her having a sharp and quick tongue, often saying things without thinking and provoking other wolves.
Her secrecy
--
in some sense it is a weakness as she is unwilling to share her thoughts and feelings with others so she doesn't get too close to them, which some consider unhealthy.
Her independence
--
after travelling on her own for so many years Ayla has grown used to a solitary life which means that she is often reluctant to befriend others or accept their help, even when she is in dire need of it.
Talents:
-Her speed and ability to lie without fault.
-Also the way she can make other wolves laugh and smile even when they're down.
-Ayla is also quite a stealthy wolf, with many years of practice in keeping her paw steps as silent as shadows and trying to use her surroundings to her advantage, and this has come about because she has had to, in a way, become a warrior of sorts as she has had to defend for herself so she is quite skilled in attack.
-She also has the knack of appearing intimidating, even to wolves that may be larger than her, because she is so proud and fiery.
Habits:
-Flicking her ears back when confused or annoyed.
-Saying something sarcastic when uncomfortable [though she uses sarcasm on many other occassions too].
-Shaking out her pelt when standing up [she get used to doing it when she lived in the north and the habit never left].
-Looking after herself and not accepting the help of others [if someone asks if they can help she says no without thinking].
₪ тнєяση ₪
Ɓαѕıcѕ
Name Meaning:
'Hunter'
Gender:
Male
Nickname(s):
None currently [open to suggestions]
Rank:
Nessa born into the pack.
Element
He is a descendant of Garth on his mother's side, but due to his father's bloodline [elemental origin unknown] he is far less firey than her and not a 'pure element'.
Age:
Newborn, though he is immortal.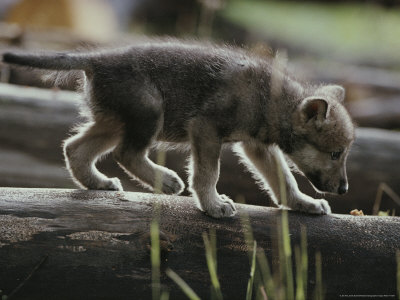 Ƥɦყรɪcმl
Build:
Theron has quite a muscular build like Ayla's brother [Logan] and is taller than the average male. Though much of the muscle is quite lean and not too bulky, he is visibly stronger than his mother and sister and would make a formidable opponent. He was also lucky to inherit his mother's long legs so he is also able to run at an acceptable speed for lengthy amounts of time, though in play Anella always outsprints him.
Coat:(Length)
Though he is still quite young and his coat soft, it is obviously that Theron's coat will be more durable than that of his sister's, being thick and of medium length and thickness, built for most types of weather.
Fur Color:
Theron's coat looks like a storm. The striking mix of greys and contrasts from the most depthless black [which mainly resides upon the ridge of his spine/center of his back and ears], to a thick, smokey grey to a light misty colour [Mostly found around his paws and across the tips of hairs across his stomach and tail. This coat pattern is almost an exact replica of Ayla's brother, Logan.
Eye Color:
Theron's eyes are a stunning green that is alike to the canopy of a rainforest in it's dappled effect of varying shades of grey. Highlighted throughout the center of the iris are glints of emerald and jade, with a darker green rim around the edge.
Markings:
He has no distinct markings in his dark, stormy coat.
Scars:
None as of yet.
Socιαℓ
Mate:
None, obviously.
Pups:
--
Family:
:: Mother ::-
Ayla
-
A fiery, proud female who is completely inexperienced in the likes of motherhood, though she does try. Also the Cora in the pack.
:: Father ::
He doesn't know. His mother has yet to speak of him.
:: Sister ::
--
Anella
--
Very similar to his mother in personality, being proud and outgoing. She likes to think of herself as royalty and though Theron enjoys annoying her, she is someone he will protect fiercely.
Friends:
Being an outgoing pup, almost anyone he meets, aside from the odd few that may get on his nerves because they're not good with pups..
Enemies:
None yet.
Crushes:
He is too young to comprehend such things.
Ɗєρէɦ
Personality:
WIP
History:
Theron was born to Ayla without knowledge of who his father was into a pack consisting of nine wolves. There were four in his litter but only he and his sister, Anella, survived. The rest is waiting to be written in history.
Ƨłმłร მη∂ Єxłгმร
Strengths:
Brawn
-
Theron, being quite tall and muscular, has strength on his side which can give him the upper paw in fights and hunting.
More to come - WIP
Weaknesses:
WIP
Talents:
WIP
Habits:
WIP
Anella may be found on
Flint
's bio
[wow]
Ɓαѕıcѕ
[/wow]